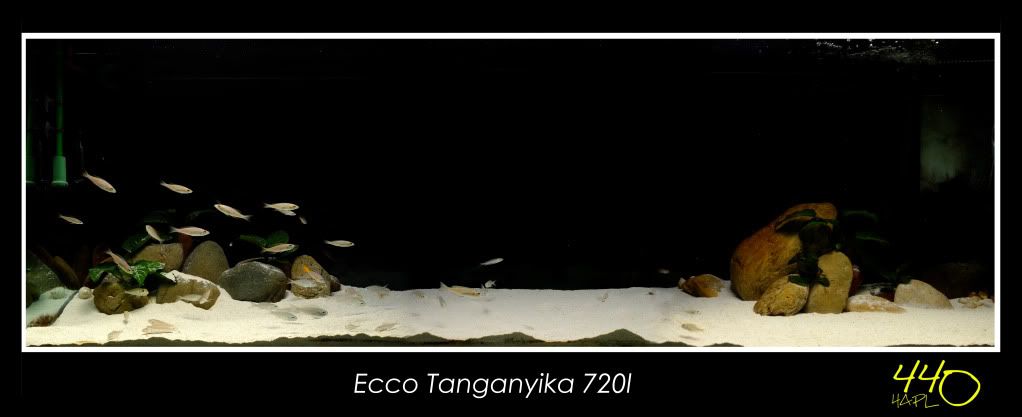 (Panoramic picture May 2011)
This is the story of my first big tank that I use for Cichlids of Tanganyka Lake. I will explain you in detail the technical aspects of its installation, the choosing of specimens and their development along one year and a half. This project was born in November 2010 when I bought a second-hand tank. And the cycling process took place from the end of December 2010 until the beginning of February 2011 (around two months and half)
The dimensions of the tank of 720 litres are 200 cm x 60 cm x 60 cm, and I use it to keep Tanganyka specimens. At the beginning I had thought to use it for Tropheus but I observed the fauna of the lake and I learnt that few specimens were 100% compatible with Tropheus (behaviour and feeding); furthermore, I also wanted to try keeping other specimens because it was my first 720 litres (until that moment I hadn't been able to have a tank of so many litres). For all these reasons I changed my mind and I decided to use it to keep sand dwellers such as
Enantiopus
,
Cyathopharynx
,
Callochromis
and complete the upper side with
Cyprichromis
and
Paracyprichromis.

One of the most important conditions was saving as much energy as possible, so I got down to work. When I looked for information and I thought about the filtration system, I found the Eheim EccoPro systems which are filtres of 750l/h that can work in a tank with a consumption of 8 w. I decided to put 3 of these filtres and I blocked the entrance of the sump inside the tank to create a system similar to a Biobox. So I put a Eheim Biopower 240 filter of 750l/h 8w inside the sump, and I filled it with its corresponding filtering charges which come standard with the filter, but in the down side of the sump just under the filter I added a kilo of coral sand "Coralit" (trade "Hobby"), around the filter and into the free space inside the sump I put foamex, and on the foamex I put filter wool.
In this way I could increase the water level of the tank, I saved the space inside the sump for filtering and I didn't have to assemble the arduous system of external filtering and the consumption of the pumps for this aim.
Pictures of the external part of one side of the sump where you can see the coral sand "Coralit" (trade "Hobby") below, foamex in the middle part and filter wool above. Picture of the upper part of the sump where you can see the exit of the Biopower 240 filter.
Picture of the upper part of the sump where you can see the exit of the Biopower 240 filter.
To help the filtration there is also a wave pump of 2400l/h with a consumption of 5w.
All the aspects of this filtering system was evaluated and carefully studied before assembling it because the conditions were energy saving, reliability, maintenance, water flow and quick response to any eventuality.
Then I had to check the light and heating. Concerning the light, after realising that the tank couldn't be moved upstairs to the basement where I could use the sunlight during the day as I do with the other tanks, I had to leave it in the other basement downstairs where there isn't any sunlight. So I wanted a lightening system of low consumption and a good light performance. What kind of leds should I use? How to assemble them? And where to buy them? Fortunately people who keep sea tanks have experience in DIY and they uploaded posts about this topic, therefore using that experience and particularly asking in the Spanish forum TODOMARINO where there are people who are really good at this thing, I had the information to assemble a DIY led screen with Cree systems of high power which could be useful for me.
Components and Leds and Diagram of the conection
The DIY screen has 16 leds of 3 w each one, distributed in 16 Cree XP-G Q5 cool White (6500 k) and 6 blue leds Cree Royal Blue alternated in two parallel series of 8 leds each one charged by a driver Man Well 68-48D which is self-adjustable and also dimiable.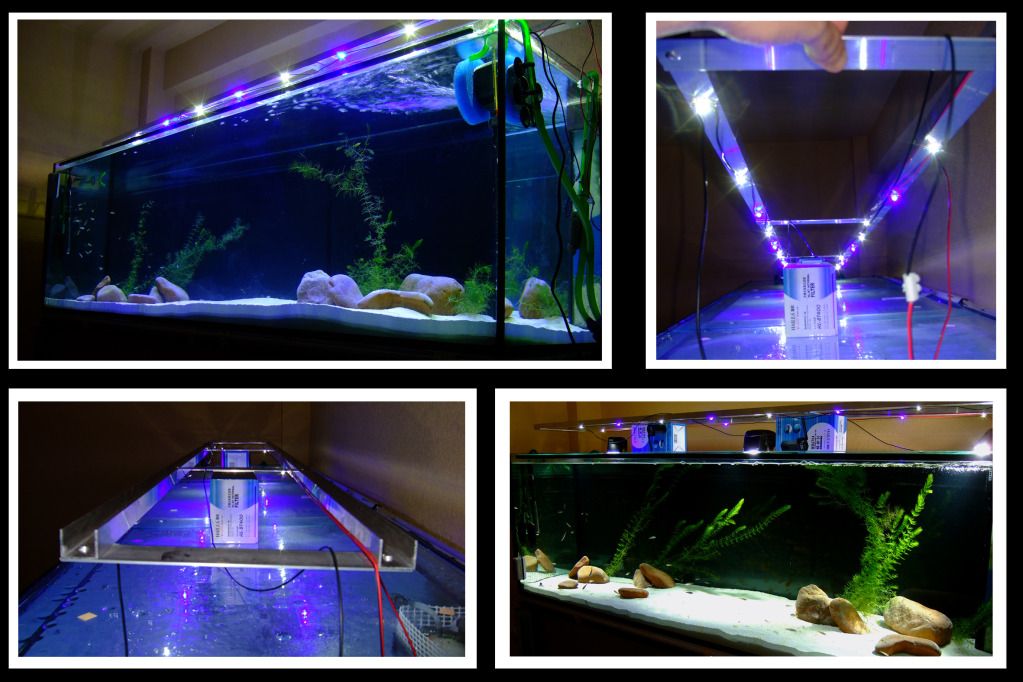 Initially I got the result that I expected. For the moment it will stay like that at the expense of any future changes.
First video of the tank in fuction with the initials fish (April 2011)
Regarding the heating I only have two heaters of 75 w (one at each side of the tank) which is enough to keep the right temperature, because the tank is fully covered with two foam sheets of 4cm width (except the front side and the upper side which are totally covered with glass). These sheets help keep the tank to a temperature oscillating from 24º to 25º, which completely isolate the tank from the external temperature.
Regarding the substrate, I chose aragonita sand (grain size 0.1-.75mm) of the trade Nature's Ocean, 8 bags of 9 kilos. The decoration consists on a few stones that I took on a local river and some
Ceratophyllum demersum
. I'm not interested in adding more decoration in the tank because the fish that I want to put inside would be fry all of them and I want to observe their development and activities all the time.

Technical general details of the set-up:
Tank
:
Tank (trade Sirocco) 200x60x60
Table (trade Sirocco) Maxi Nilo
Capacity 720 l
Filtration:
Three ítems of Eheim Eccopro 300 (consumption 8w each one and 750 l each one canister volume 3.0), filtering charges Eheim (Eheim Mech,Eheim BioMech, Eheim Substrat pro) and preliminary filter pads (Foamex).
One Eheim Biopower 240 (consumption 8 w and 750l/h, canister volume 680 cubic cm inside + 1 kilo of coralit in the sump just under the filter), filtering charges Eheim (EHEIM SUBSTRAT pro) and preliminary filter pads.
One Wave Pump Wave 2400 (consumption 5w and flow rate 2400 l /h).
Heating:
two heaters 75 w.
Light:
DIY led screen 16 Power Leds Cree 3w each one (10 Cool White and 6 Royal Blue)
Salts and Buffer:
Instant Cichlids-de Acuarium Systems (36g cada 100l)
First fishes going into the tank – End of February 2011:
Enantiopus Sp
. Kilesa -17 fry (from 2 to 3 cm aprox.)
Paracyprichromis Nigripinnis
- 4 fry (2 cm)
Cyprichromis leptosoma utinta fluorescent
– 20 fry (3 cm)
Callochromis Macrops Ndole
- 10 fry (3 cm)
Cyathopharynx Furcifer Ruziba
- 10 fry (3 cm)
Feeding:
NLS Cihlids formula, JBL Spirulina (smashed and mixed) and Egg Booster.
Water changes:
10 % weekly changes.
Some Pictures of the inhabitants.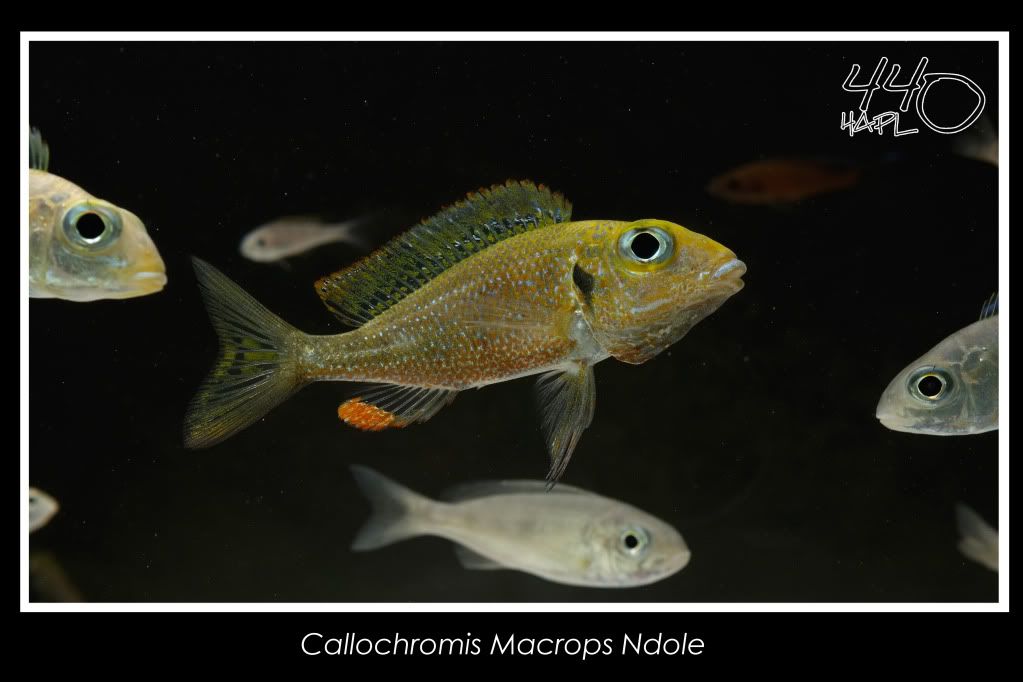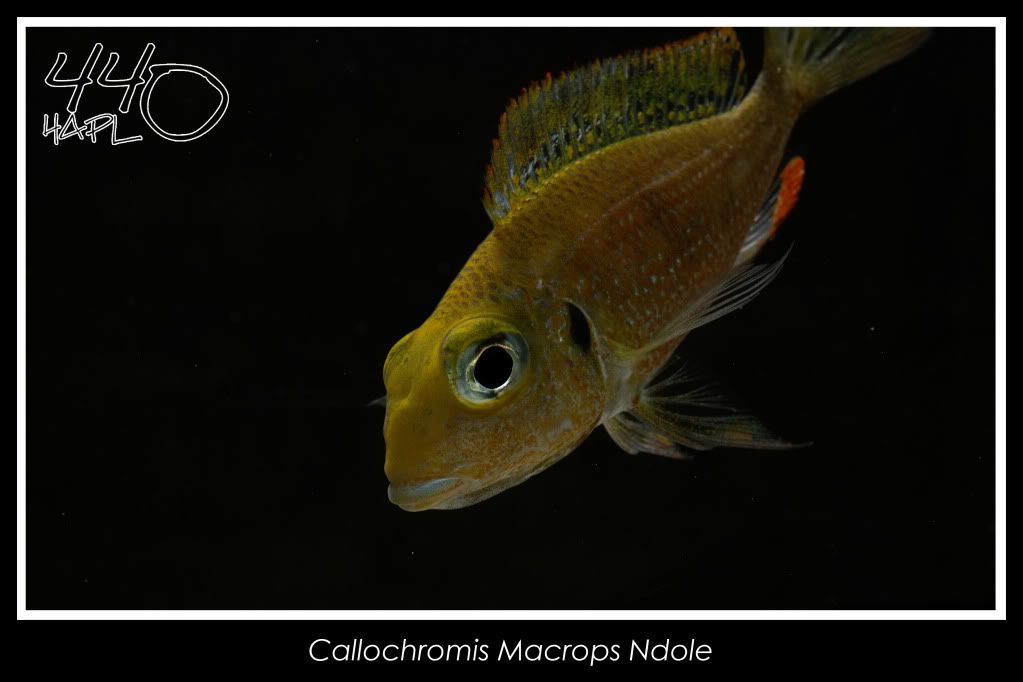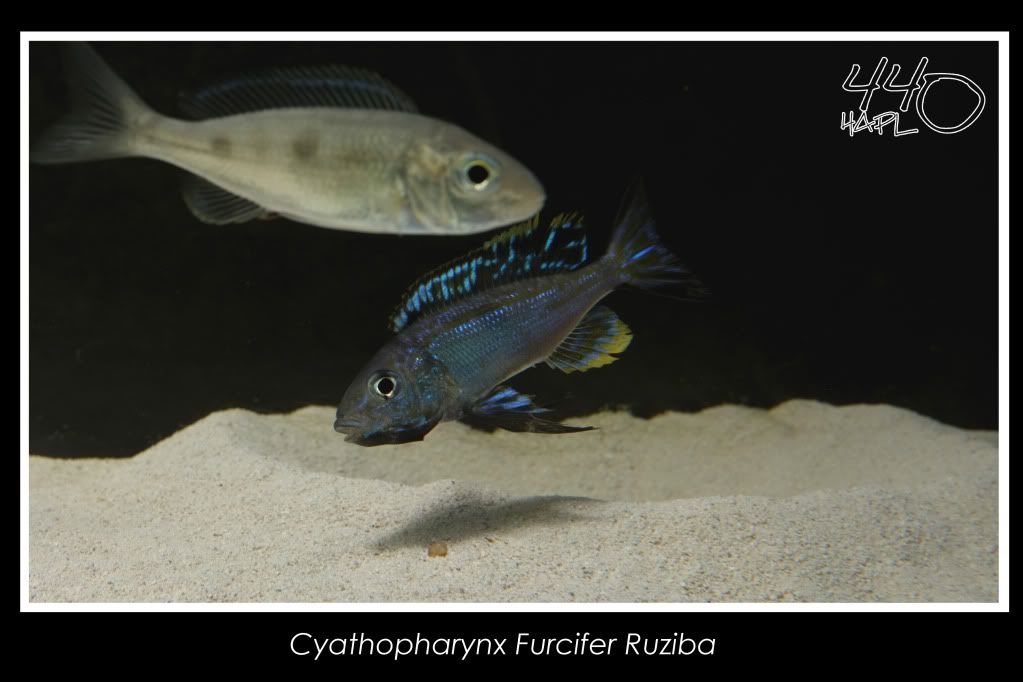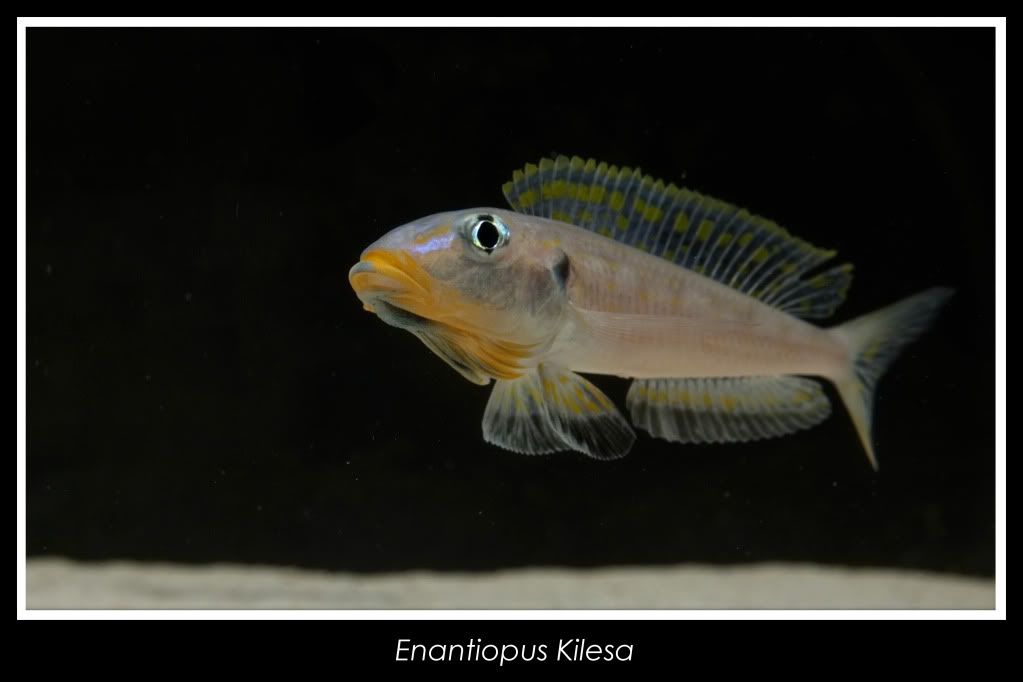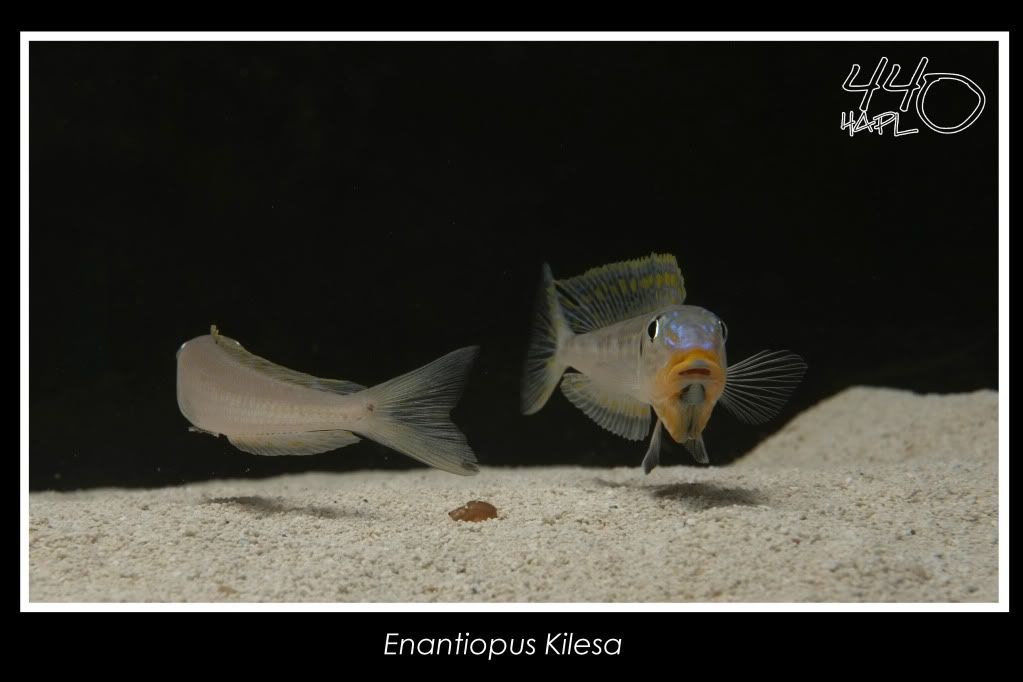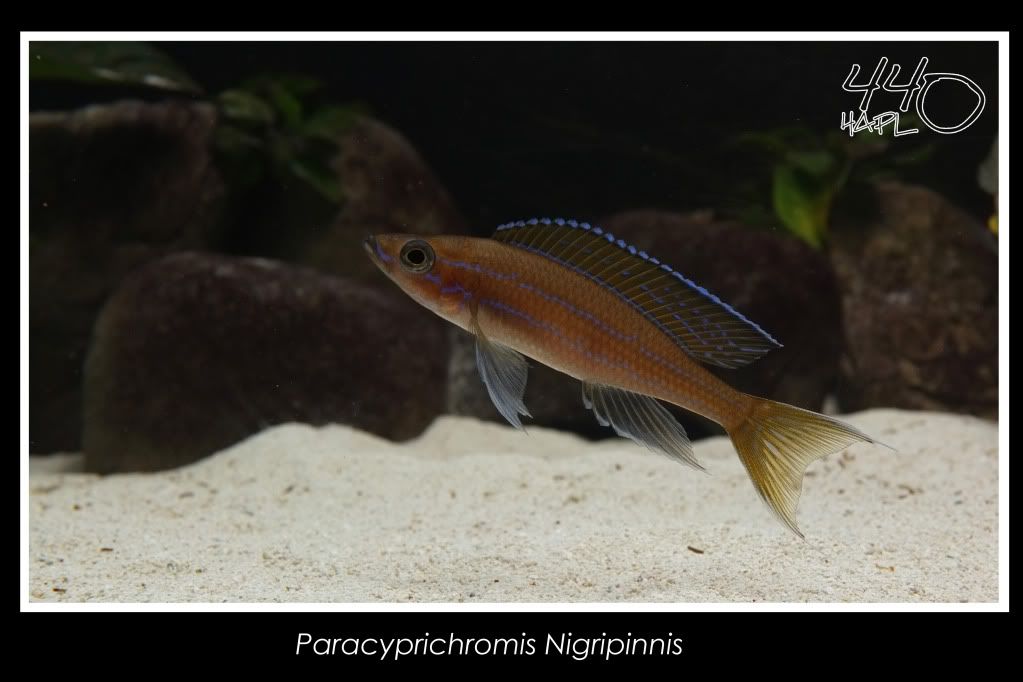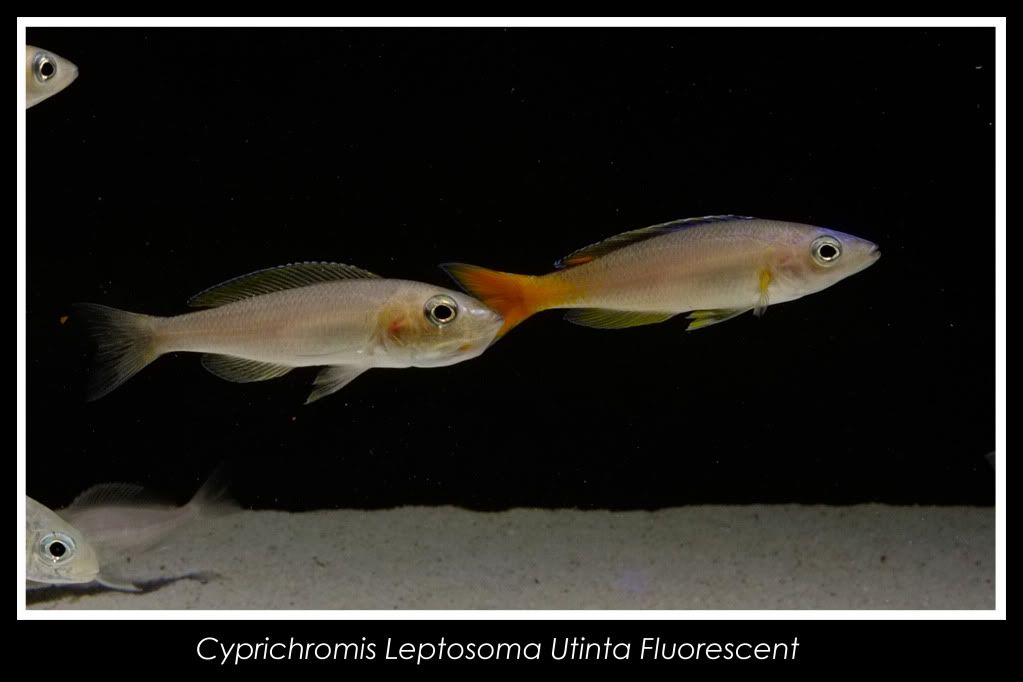 Now we are going to review the obtained consumption to maintain this biotope.
Filtration:
4 filters 8w each one + a wave pump 5w. Total watts=37 watts
(biological filtration capacity 18 l aprox.)
(biological flow rate 3000l/h + wave pump 2400l/h)
Heating:
Two heaters 75 watts each one. Total= 150 watts.
(only working for 4 months a year in winter)
Lighting:
DIY Leds Cree Screen 16 leds 3 watts each one . Total=48 watts
(only 12 hours a day)
General consumption of the equipment working at full capacity:
-During winter months. Total=235 watts (only for 4 months a year).
-Without heaters. Total=85 watts (with leds switched on, 12 hours a day).
-With the lightning system switched off. Total=37 watts (only at night in the summer and spring).
One panoramic picture (with the leds screen finish) and a recents videos…
See you
Sebastian